I hope and pray the information below will be a blessing to you. May GOD/ELOHIM reveal the Truth, AMEN!
May you and yours prosper and be in health and may no weapon formed against you prosper – Isaiah 54:17.
Remember, anything is possible  with GOD/ELOHIM. Pray and HE might grant a miracle or blessings, AMEN!
Shalom – peace, prosperity and good!
Gail
The Pfizer-BioNTech COVID-19 Vaccine is a vaccine and may prevent you from getting COVID-19.
There is no U.S. Food and Drug Administration (FDA) approved vaccine to prevent COVID-19
WHAT IS THE PFIZER-BIONTECH COVID-19 VACCINE?

The Pfizer-BioNTech COVID-19 Vaccine is an
unapproved vaccine
that may prevent COVID-19.
There is no FDA-approved vaccine to prevent COVID-19
The FDA has authorized the emergency use of the Pfizer-BioNTech COVID-19 Vaccine
to prevent COVID-19 in individuals 16 years of age and older under an
Emergency Use Authorization (EUA).

WHAT IS THE COUNTERMEASURES INJURY COMPENSATION PROGRAM? The Countermeasures Injury Compensation Program (CICP) is a federal program that may help pay for costs of medical care and other specific expenses of certain people who have been seriously injured by certain medicines or vaccines, including this vaccine.

WHAT IS AN EMERGENCY USE AUTHORIZATION (EUA)?
The United States FDA has made the Pfizer-BioNTech COVID-19 Vaccine available under an emergency access mechanism called an EUA. The EUA is supported by a Secretary of Health and Human Services (HHS) declaration that circumstances exist to justify the emergency use of drugs and biological products during the COVID-19 pandemic. The Pfizer-BioNTech COVID-19 Vaccine has not undergone the same type of review as an FDA-approved or cleared product.
[In depth interview with Michael Yeadon, a former VP of Pfizer and Chief Scientific Advisor. Please read all of it. Very important.]
https://www.nature.com/articles/s41565-020-00820-0
Two nanoparticle-based vaccines close to obtaining approval by the US Food and Drug Administration could represent a giant step in the fight against the COVID-19 pandemic.
On 18 November 2020, BioNtech and Pfizer announced the final results of their COVID-19 vaccine phase 3 clinical trial1.
This new class of DNA- and RNA-based vaccines deliver the genetic sequence of specific viral proteins to the host cells using nanotechnology platforms. Traditional vaccines instead trigger immune responses upon injection of entire viruses, either as attenuated live viruses, inactivated viruses or engineered viruses, into the body.
https://www.rochester.edu/newscenter/covid-19-rna-coronavirus-research-428952/
An RNA-based vaccine therefore acts as a code to instruct the body to make many copies of the virus protein—and the resulting antibodies—itself, resulting in an immune response.
https://www.technologyreview.com/2020/12/09/1013538/what-are-the-ingredients-of-pfizers-covid-19-vaccine/   But Pfizer is holding back a little. The spike gene sequence can be tweaked in small ways for better performance, by means that include swapping letters. We don't think Pfizer has said exactly what sequence it is using, or what modified nucleosides. That means the content of the shot may not be 100% public.
THE LIPIDS: The Pfizer vaccine, like one from Moderna, uses lipid nanoparticles to encase the RNA. The nanoparticles are, basically, tiny greasy spheres that protect the mRNA and help it slide inside cells.
These particles are probably around 100 nanometers across. Curiously, that's about the same size as the coronavirus itself.

Here, for instance, is what the US Food and Drug Administration says is in Pfizer's vaccine:
Active Ingredient

nucleoside-modified messenger RNA (modRNA) encoding the viral spike glycoprotein (S) of SARS-CoV-2

Lipids

(4-hydroxybutyl)azanediyl)bis(hexane-6,1-diyl)bis (ALC-3015)
(2- hexyldecanoate),2-[(polyethylene glycol)-2000]–N,N-ditetradecylacetamide (ALC-0159)
mRNA vaccines undergoing Covid-19 clinical trials, including the Moderna vaccine, rely on a nanoparticle-based "carrier system" containing a synthetic chemical called polyethylene glycol (PEG).
The use of PEG in drugs and vaccines is increasingly controversial due to the well-documented incidence of adverse PEG-related immune reactions, including life-threatening anaphylaxis.
Roughly seven in ten Americans may already be sensitized to PEG, which may result in reduced efficacy of the vaccine and an increase in adverse side effects.
If a PEG-containing mRNA vaccine for Covid-19 gains FDA approval, the uptick in exposure to PEG will be unprecedented—and potentially disastrous.
Moderna documents and publications indicate that the company is well aware of safety risks associated with PEG and other aspects of its mRNA technology but is more concerned with its bottom line.
https://www.nanowerk.com/spotlight/spotid=56577.php
There are three major nanotechnological techniques of presenting adjuvants and antigens in concert. The first is co-delivery through encapsulation within or conjugation onto a nanoparticle, wherein the adjuvant and antigen are bound within or onto a nanoparticle which is then delivered to the cell. The second is direct antigen-adjuvant conjugation, where the two particles are bonded for delivery. The third approach utilizes the antigen delivery vehicle as an adjuvant itself.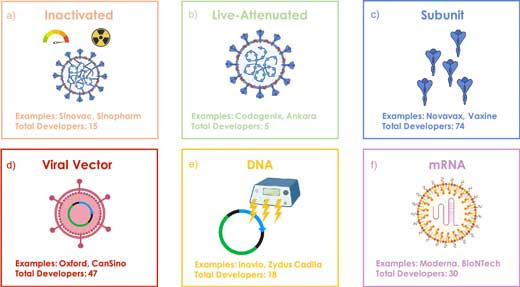 Figure 1. Vaccine types currently under development for SARS-CoV-2. (a) Inactivated vaccine that uses the native virus rendered replication deficient from heat or chemical treatment, (b) live-attenuated vaccine that can replicate, but in a limited manner that cannot cause the disease, (c) subunit vaccine that incorporates subsections of the native virus such as the S protein, (d) viral vector vaccine that encapsulates the genome of a different weakly pathogenic virus with additional DNA that encodes the target viral antigen, (e) DNA vaccine using a DNA plasmid that encodes the target antigen, often administered by electroporation, (f) RNA vaccine of RNA encapsulated within a LNP to decrease RNA degradation and increase translation efficiency. (Reprinted with permission by American Chemical Society) (click on image to enlarge)
Two companies which have been leading the charge to develop COVID-19 vaccines are Moderna and the BioNTech/Pfizer partnership. Both these companies are developing mRNA that encodes subunits of the COVID-19 spike or S protein. Meanwhile, the University of Oxford/Astrazeneca and CanSino are two companies developing vaccines based on non-replicating viral vectors. Viral vectors use DNA rather than mRNA to encode the desired antigens. [The above suggests that Moderna and BioNTech/Pfizer's vaccines contain material that can  replicate.]
mRNA delivery depends on the use of lipid nanoparticle envelopes to deliver the mRNA cytoplasmically, i.e. directly into the cell.

https://www.news-medical.net/life-sciences/Safety-of-Nanoparticles.aspx
Why are nanoparticles considered dangerous ?
The safety issues with nanoparticles are not very well known but their potential for danger is evident due to the high surface area to volume ratio, which can make the particles very reactive or catalytic. In addition, these are able to pass through cell membranes in organisms and may interact with biological systems.
https://ec.europa.eu/health/scientific_committees/opinions_layman/en/nanotechnologies/l-2/6-health-effects-nanoparticles.htm
6.1 Can nanoparticles interact with living organisms?
Nanoparticles, can have the same dimensions as biological molecules such as proteins.
In living systems, they may immediately adsorb onto their surface some of the large molecules they encounter as they enter the tissues and fluids of the body.
This ability of nanoparticles to have molecules "sticking" to their surface depends on the surface characteristics of the particles and can be relevant for drug delivery uses. Indeed, it is possible to deliver a drug directly to a specific cell in the body by designing the surface of a nanoparticle so that it adsorbs specifically onto the surface of the target cell.
But the interaction with living systems is also affected by the dimensions of the nanoparticles. For instance, nanoparticles no bigger than a few nanometres may reach well inside biomolecules, which is not possible for larger nanoparticles. Nanoparticles may cross cell membranes. It has been reported that inhaled nanoparticles can reach the blood and may reach other target sites such as the liver, heart or blood cells.
Key factors in the interaction with living structures include nanoparticle dose, the ability of nanoparticles to spread within the body, as well as their solubility. Some nanoparticles dissolve easily and their effects on living organisms are the same as the effects of the chemical they are made of. However, other nanoparticles do not degrade or dissolve readily. Instead, they may accumulate in biological systems and persist for a long time, which makes such nanoparticles of particular concern.
There remain many unknown details about the interaction of nanoparticles and biological systems and more information on the response of living organisms to the presence of nanoparticles of varying size, shape, chemical composition and surface characteristics is needed to understand and categorize the toxicity of nanoparticles.

https://www.sciencedaily.com/releases/2020/07/200715095500.htm
An intriguing class of nanotechnology for peptide vaccines is virus like particles (VLPs) from bacteriophages and plant viruses. While non-infectious toward mammals, these VLPs mimic the molecular patterns associated with pathogens, making them highly visible to the immune system. This allows the VLPs to serve not only as the delivery platform but also as adjuvant. VLPs enhance the uptake of viral antigens by antigen-presenting cells, and they provide the additional immune-stimulus leading to activation and amplification of the ensuing immune response. Steinmetz and Professor Jon Pokorski received an NSF Rapid Research Response grant to develop a peptide-based COVID-19 vaccine from a plant virus. Their approach uses the Cowpea mosaic virus that infects legumes, engineering it to look like SARS-CoV-2, and weaving antigen peptides onto its surface, which will stimulate an immune response.  [do you want to take a chance this will not mess with your cells?]
https://www.sciencedirect.com/topics/engineering/nanobots
Nanobots are robots that carry out a very specific function and are ~50–100 nm wide. They can be used very effectively for drug delivery.